What is SculpSure?
SculpSure® by CynoSure® is an FDA-approved, noninvasive body contouring treatment that's designed to permanently reduce persistent fat in five treatment areas, including the abdomen, flanks, back, and inner and outer thighs.
The safe, cutting-edge technology uses precision laser energy to superheat the fat cells beneath the surface of your skin, without affecting your skin tissue. Once it penetrates your fat cells, the laser's heat disrupts fat cells and damages their durability, which interferes with their ability to function. Over the next few weeks, your lymphatic system targets the damaged fat cells and naturally flushes them from your body. As a result, you'll achieve a tighter, slimmer appearance without diet and exercise.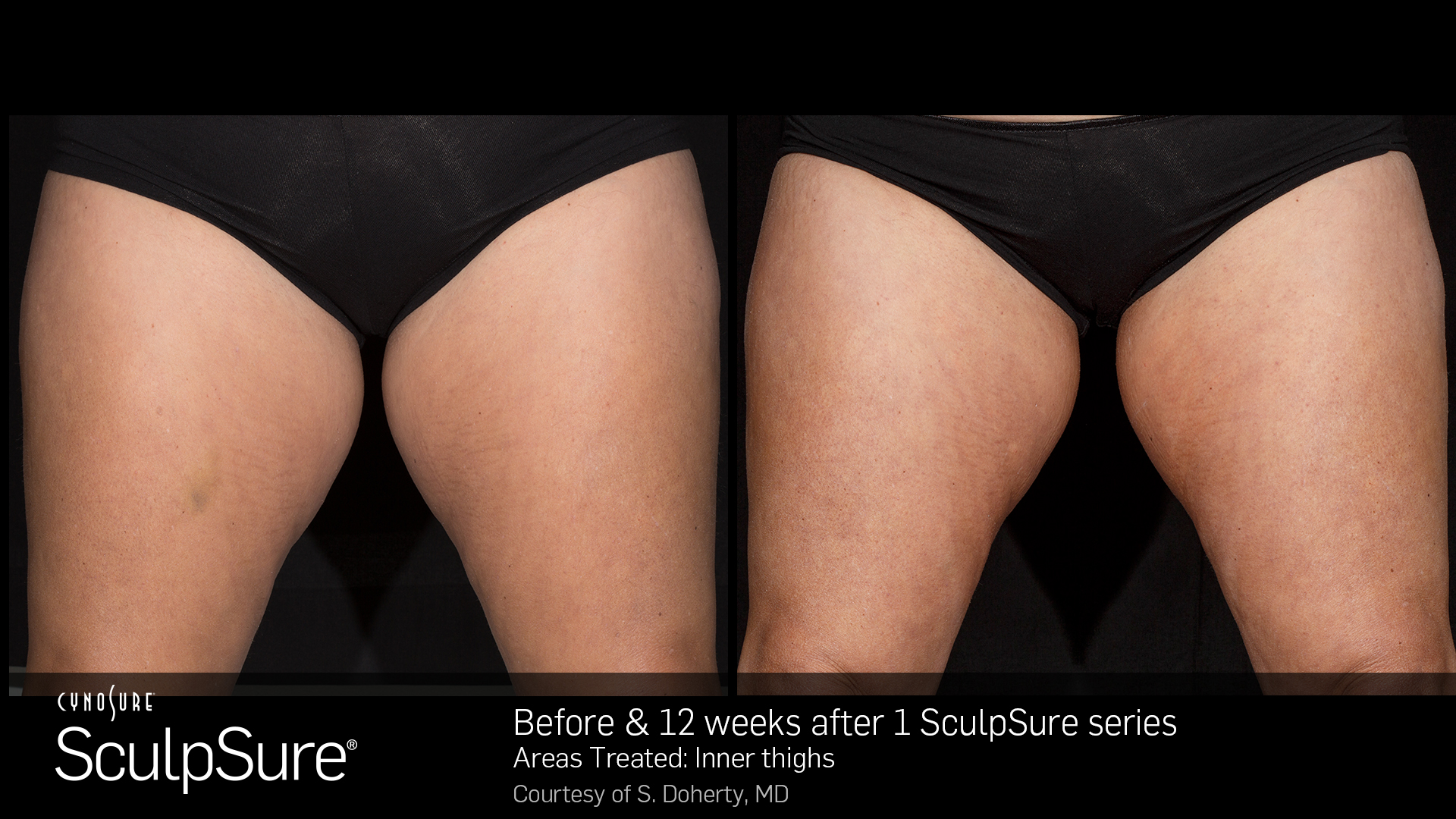 Is SculpSure right for me?
SculpSure is a body contouring system designed to get rid of the love handles, muffin tops, lower belly fat, and excess thigh fat that are unaffected by diet and exercise. Because its purpose is to help you sculpt and tighten your waist, hips, belly, and thighs, SculpSure shouldn't be thought of as a weight loss treatment that can help you reach your ideal weight. If you're already at a healthy body weight, however, SculpSure may be just the solution you're looking for to help you slim and shape these common trouble spots.
What is the procedure like?
After an initial consultation to discuss your aesthetic goals, Dr. Ryan develops a customized SculpSure treatment plan and explain what you can expect from the treatment.
As the laser penetrates your fat cells during the procedure, you may experience a mild tingling sensation, which most patients don't find bothersome. Most patients achieve the results they want by treating several areas over the course of multiple sessions. Because each session lasts about 25 minutes, it's easy to fit a SculpSure treatment into your day.
SculpSure is a noninvasive, nonsurgical fat reduction treatment, which means it doesn't require any recovery time, and you can get back to your routine immediately following the procedure.
What results can I expect?
Unlike traditional weight loss methods, which simply cause your fat cells to shrink, the fat cells targeted by SculpSure are permanently destroyed and flushed from your body. Because the targeted fat cells are eliminated over the course of a few weeks, you can expect to start seeing significant results about six weeks after your first treatment, with optimal results emerging up to 12 weeks after treatment.
Once your body has finished eliminating all the damaged fat cells, you'll have permanently lost as much as 24% of the fat in treated areas.
*Individual results may vary.
Click to view the Before & After Gallery.